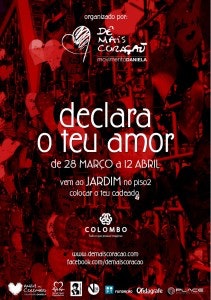 Between March 28th and April 12th, the Dê Mais Coração-Movimento Daniela will be present at Centro Colombo with an installation with the letters  L – O -V – E  on which, just like the bridges of Paris, you may place padlocks with love messages.
This innovative fundraising project  was inspired by the British Heart Foundation and has had the help of sculptor Rui Miragaia to produce the structure in Portugal.
Putting aside the materialistic consumerism of today's world, we invite all Centro Colombo's visitors to to acquire a lock, place it on a letter of their choice and declare their love through this interactive initiative. This cost of the lock will revert to the association Dê Mais Coração-Movimento Daniela whose mission is to help poor Mozambican children  with heart conditions.
To learn more about Dê Mais Coração- Movimento Daniela visit their facebook page at  www.facebook.com/demaiscoracao.