News • Arte Chegou ao Colombo
A unique Roy Lichtenstein exhibition in Portugal
"A Arte Chegou ao Colombo" (Art Has Arrived to Colombo) is back in business at our shopping centre and this year we bring you one of the most renowned pop artists, in a celebration of colour and boldness. Come and visit from 19th June.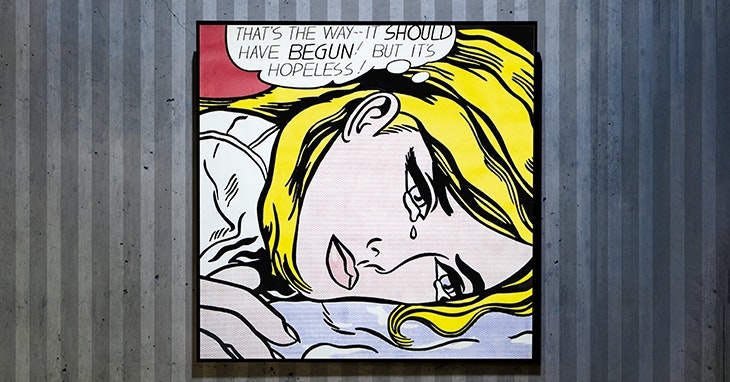 Lichtenstein was one of the fathers of pop art and one of the most famous artists of the 20th century, however, he never had a solo exhibition in Portugal. Until today. He is the protagonist of the 8th edition of "A Arte Chegou ao Colombo", and follows in the footsteps of renowned artists such as Paula Rego, Andy Warhol, and Salvador Dali, who had their work on display here in previous years.
The artist, who is best-known for his use of Ben-Day dots, has been a part of numerous group exhibitions in Portugal, and the Berardo Collection owns several pieces. However, he never had a solo exhibition in Portugal. "Roy Lichtenstein and Pop Art" brings you 41 masterpieces from different periods of his career, all on show in Colombo's Main Square.
These pieces, from the Joséluis Rupérez Collection have been on show in places such as the Tate Gallery in London and the Whitney Museum in New York, as well as at the Leo Castelli Gallery – one of the most important art galleries in the world. Here at Colombo Shopping Centre you will be able to admire works of art from various moments of his body of work, the highlights being the iconic pieces, "Crying Girl" (1963), "Hopeless" (1969) and "Whaam!!" (1967).
With the Portuguese artist Rueffa as ambassador, this exhibition will surely be a benchmark in the history of "A Arte Chegou ao Colombo", and is a wonderful opportunity for all art lovers. Stay tuned as we will be bringing you more news soon!
The exhibition is free and open from 19th June to 23rd September, from 10 am to midnight. Come and enjoy "A Arte Chegou ao Colombo"!
Publication
24 August 2018